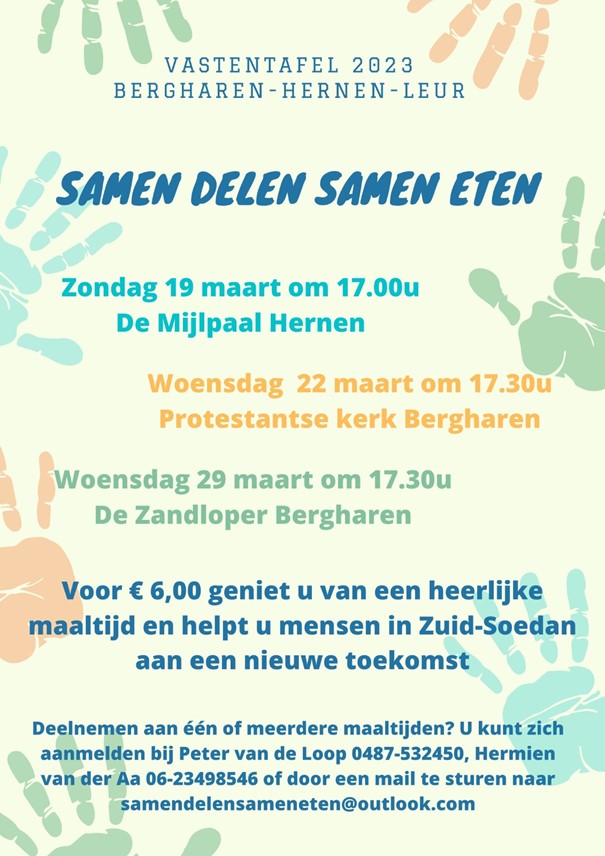 Het is weer zover, over twee weken organiseren we weer de jaarlijkse Vastentafel voor het goede doel. Voor 6 euro krijgt u een heerlijke driegangen maaltijd. De maaltijd wordt volledig kosteloos georganiseerd. De opbrengst komt dan ook volledig ten goede aan het goede doel! Kom gezellig eten met vrienden of familie. Of kom gewoon alleen en stuit gezellig aan bij de andere eters.
Heb je toevallig ook zin om te koken, laat het mij weten. Het is gebruikelijk dat de kooksterren een gerecht maken voor 10 personen. De kosten van de maaltijd mogen in rekening worden gebracht maar wij hopen uiteraard dat de kooksterren de kosten voor eigen rekening nemen en op die manier het goede doel steunen. Mee eten is dan uiteraard gratis. Het thema van dit jaar is Italiaans.
Ik hoop op veel positieve reacties, groetjes Hermien van der Aa.
Luier- en incontinentie zakken
Bij de Mijlpaal kunt u ook gratis zakken voor luiers en incontinentiematerialen ophalen !!